These were drop-shipped yesterday afternoon: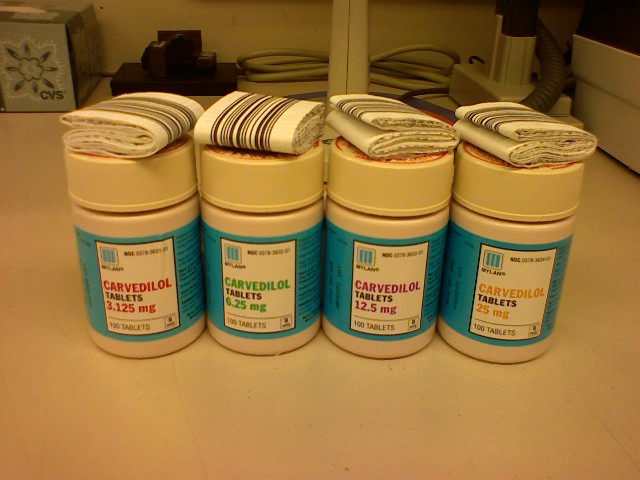 A couple of weeks ago, I was detailed by GSK. Unlike The Angry Pharmacist, I don't hate drug reps. The GSK guy isn't a busty blonde who brings us cannolies and only visits at lunchtime. He's actually a genuine human being, and he's probably old enough to be my dad.
But on his last visit, he did something that rubbed me the wrong way: he asked me to fill out these cute little forms and send them to the doctors to get them to switch to the controlled released versions of carvedilol: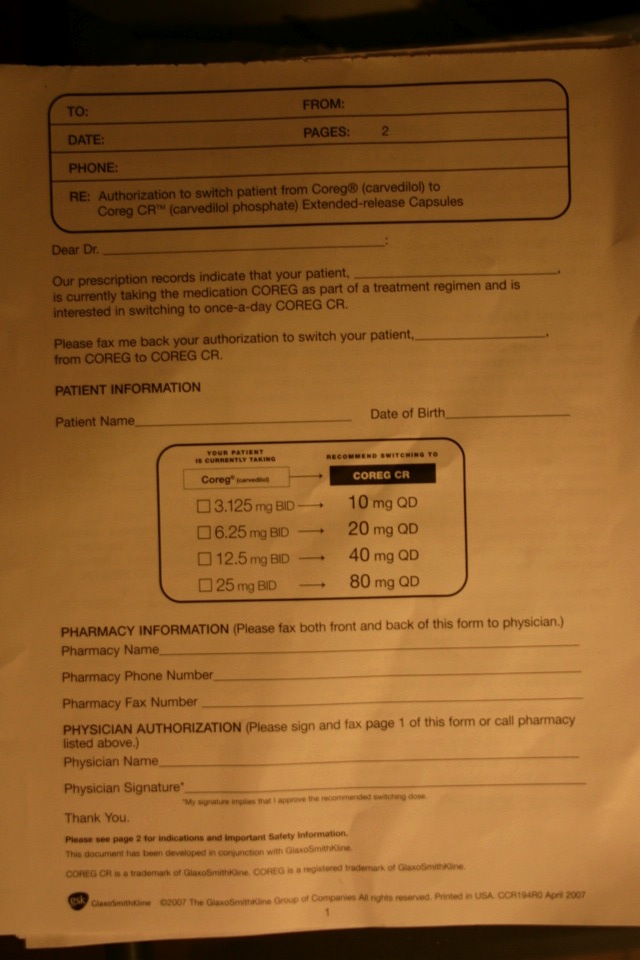 Yeah okay, buddy. How about no? I like you well enough, but geeeeze. Your form is pretty, but a reversal of it would be more useful: seniors sure do like those generics that're covered even during the donut hole…
Needless to say, I threw the stack of forms in the trash without showing anyone else. As the person who makes the most therapy recommendations, no one but me would have a use for them anyway. Even if they weren't complete bullshit.
—
On a related note, I'm waiting for the day drug companies get a clue and make writing the original, IR version of a drug more troublesome to prescribe than the inevitable extended-release forms. Call it "Coreg IR" the first time around, and then call your extended-release, patent-protected, evergreened, overpriced bullshit version plain old "Coreg." As though it were Coreg As It Was Meant To Be — like that marketing crap Sanofi-Aventis tried with Ambien. (Zomg, we should never have made Ambien because Ambien CR is soooooo much better. Ugh.)
That'll work better than your fancy brochures, ridiculous therapy change forms, and formulary negotiations combined.
[tags]GSK, Coreg, carvedilol, marketing[/tags]