And both groups rank below pharmacists by a large margin.
I think this graph is very telling. (Thanks to John Mack from Pharma Marketing Blog.) Click it for a larger image.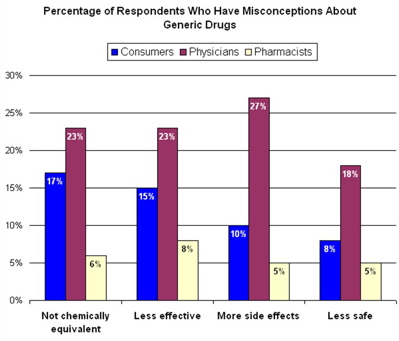 The results are from Medco's 2006 Drug Trend Report. As one of the largest PBMs in the country, Medco is in a unique position publish statistical analysis of drug trends because their subscribers are from every conceivable demographic.
"The survey found that physicians trail consumers and pharmacists regarding their knowledge of and confidence in the safety and effectiveness of generic drugs which could have broad implications for the forthcoming boon in savings from the expected drug patent expirations of branded drugs worth over $40 billion in U.S. sales:

"One quarter of the physicians surveyed stated that they do not believe generic medications to be chemically identical to their branded counterparts; more than 8 percent said they were unsure. This despite FDA rules that require generic versions of the drug be bioequivalent to the brand medication
Nearly one in five physicians believes generic drugs are less safe than brand-name medications, and more than one in four doctors (27 percent) believe generic medications will cause more side effects than brands"
Just wonderful. It's true there are slight differences between brand and generics. Dyes, binders, and disintegrants may be slightly different, but these differences are usually negligible, to say nothing of potential side effects. After all, who is to say that the brand name drug's binders, disintegrants, and dyes are less likely to cause problems than the generic equivalent's? Answer: impossible to know without trying. Doh!
Now seems like a good time to link up my generic drug FAQ post.
When discussing generic drugs with patients at the pharmacy, they often want to "talk to their doctor" about it. I've known for a while that doctors are less educated than pharmacists when it comes to brand vs generic drugs.
Sometimes it wears on me — in chain pharmacies, individual pharmacies within the chain are measured by many things, one of them being generic conversion rates — and I'll go out of my way to convince a particularly adamant patient to switch.
Take for instance, Celexa. We carry the Inwood brand generic which is the "authorized" generic. It's actually made by Forest, and the Inwood bottle even says it's made by Forest. I showed the patient the tablets (virtually identical, the numbering was slightly different), showed her the bottle ("See? They're both made by Forest.") and I still got the same response: "I'll talk to my doctor first."
It can be very frustrating when it comes to things like these because it costs the patient money, and the insurance company money. The only people who win are the big pharmaceutical manufacturers. In the case of Forest, they're making about twice as much money simply because she refused to switch to the identical generic. (And she paid $25 more out of her own pocket.) It's nice to see statistical data that corroborates what most pharmacy personnel already know: doctors aren't the best source of information when it comes to generic drugs.
[tags]Medicine, pharmacy, consumers, doctors, generic drugs[/tags]